THE FYRE EFFECT: ARE THE UPSIDES OF STARDOM WORTH THE DOWNSIDES OF SCANDAL?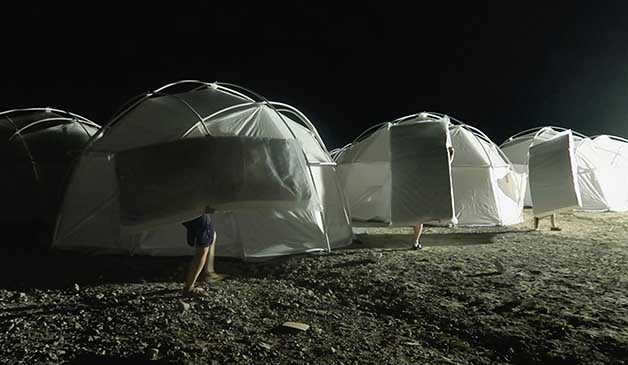 Students have seen what happens when influencers inadvertently mislead their fans (such as with Fyre Festival) and this has changed their views on what it means to be a social media star. They will now be more cautious when it comes to their own Student Brand Ambassador (SBA) activity and be less forgiving when it comes to holding bigger celebrities to account.
For the last few years we have seen the online world becoming more and more of a glass box; transparent and exposed. People know how to spot fake news, fake social buzz and fake influencer strategies. And after the huge disaster that was Fyre Festival, with its associated documentaries and social media storm, the lid has finally and fully been blown.
*"You need to be careful about what you're attaching yourself to." *
We asked if it's possible that Fyre Festival will change the way students and other young people think about influence and their role in it.
"You definitely have a responsibility… to protect yourself by taking research, not always thinking about the money but also working with brands and campaigns which align with your personal beliefs."
Students tend to be more mainstream in their tastes so many are keen followers of big influencers online. A lot of students (and especially SBAs) are also micro-influencers in their own right. They work hard at building their personal brands and growing their online presence, hoping they'll get the chance to represent brands and have even more influence. We know why they're so important; micro-influencers have more organic content and are reaching a specific audience to which they are connected personally. That automatically leads to more engagement and impact. This is also the reason brands are taking SBAs more seriously.
Many SBAs take their lead from the big stars of Instagram and Youtube when creating content and relationships with brands. They are very aware of the power they could hold if they can hit those high follower numbers.
Until now, there have only really been upsides to this avenue of work for them but in the aftermath of Fyre Festival we could see some significant changes. FitTea and instant teeth whitening have created a whole genre of derogatory memes and jokes but none of these come close to the massive fraud that Fyre Festival turned out to be. We asked our students how they felt about the influencers who promoted Fyre Fest and other products and brands that have proved to be scams.
Although their comments were, for the most part, forgiving of their favourite stars, only 6% of students actually agreed that it was not their fault and they should not be held responsible. And a third admitted they had lost some respect for them. When Ja Rule, one of the festival's founders, defended himself on Twitter, he was met with an angry backlash. And for those few ready to forgive and move on, Refinery 29 recently printed a comprehensive list of all celebrities tied to the Fyre Festival 'in case you forgot'.
"I think they have a duty, a moral duty, to give something back, whether that's free tickets or money or products."
Young audiences feel a personal connection to the influencers they follow, which provides a sense of trust when it comes to any kind of promotion, especially if it's in their area of expertise. They expect their influencers to be as honest with them as their friends are. Not surprising then that 10% have stopped following celebrities that promoted Fyre.
According to The Irregular Report in 2018, 67% of Gen Z (which all our students fall into) say being true to their values and beliefs makes a person cool. Authenticity is one of their most prized values. Instagram for Gen Z "isn't as much about how they look, as it is about what they know, believe and do". In other words, Gen Z care more about substance and authentically getting across their inner lives online.
"Stardom means nothing when greed is involved. Stardom is everything when passion is involved."
This shift has made them ask questions about accountability. 60% of students think influencers have a responsibility to make sure they are not misleading their fans. Empathy is a powerful tool and as news emerges of the conditions the festival goers had to endure - compared to the £5.2million spent on influencers - people are beginning to ask if they should be allowed to get away without taking some responsibility. Half believe the influencers should use the money they made to pay back fans who may have lost money.
Brands need to be aware that we are entering an age where influencers are going to be held more accountable for their actions and the products they promote. Brands will need to assess how this will affect them and their influencer strategy, from mega-star to SBA.
"They have to find out what the people behind the experience stand for."
Students are already taking lessons from this disaster and asking themselves what they would do in this position. A third think that the Fyre celebs are a lesson in how careful they need to be when promoting something in the future. This will make dealing with them more time consuming as they look for assurances that they are not setting themselves or their subscribers up for a fall.
"If in the future I was a hugely successful influencer, I would definitely worry about the kind of brands I was using to sell products or to sell experiences."
In the last few years students have been demanding more transparency. They want to know when something is a paid promotion. As a result there are more hashtags like #ad, #spon etc. This hasn't damaged influencer reputations. Instead it's shown authenticity and provided clarity in what can be a confusing space. We have no doubt that the lessons learned from Fyre will change the influencer operating landscape too.
*"Influencers need to make the general public aware that it's paid advertising… they are simply hired… it's sometimes a grey area." *