PLAYLIST PASSION: IS CURATION KILLING CURIOSITY?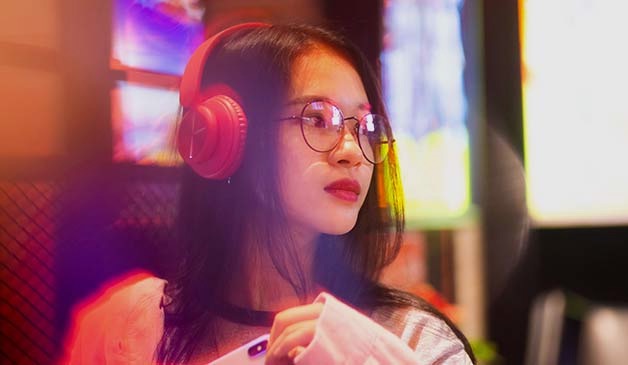 Young people still define themselves through music but since students can now access anything they want to listen to just by asking Alexa, they've stopped discovering music the way they used to. Although they spend more time plugged in now than ever, their starting point is not albums but playlists and they're focused more on mood than genre.
There's no doubting the link between music and technology. Today's students are more willing than the previous generation of millenials to pay for a streaming service and their passion for music is undeniable. It informs every area of their lives and it would be easier for them to explain when they are not listening to music than when they are. For years sales of physical music formats have been falling while digital streaming has increased in popularity, bringing with it a new set of trends and behaviours.
One of these is a trend toward 'playlist culture' which seems to be infiltrating every area of our lives. We found that over half of students (55%) listen to playlists on a very regular basis (4x or more a week). Women are more likely to search out playlists than men. Unintentionally, because of playlists, students are listening to more artists than ever before. They are also listening to music for longer than ever before, but this is intentional.
"I have some issues with concentration and I can put on a long, lo-fi playlist… and that will keep me focused on my work for 4-5 hours."
From Netflix to PornHub, YouTube to Spotify, students no longer live in a world of weekly episodes and single views or listens. Smart algorithms are lining up your next piece of content without needing to be prompted. We've even got to a place where we don't have to fast forward opening credits or watch recaps! And for music, all you have to do is say what mood you're in which artist you feel like listening to and there's an almost inexhaustible, instant and expertly curated backdrop for every moment of your life, from singing in the shower to grieving a failed relationship. In fact, we found that half of all students choose playlists based on their mood rather than genre, which is a change from generations of previous behaviours.
"I do like Spotify's own curated playlists for moods."
But does this mean students have lost their love of listening to entire albums (including the filler tracks), discovering and sharing artists, and building on their knowledge of genres? What does it mean to have an almost seamless, constantly changing and evolving soundtrack to their lives, that involves no more thought than the touch of a button or asking Alexa?
"It's nice to know I can access an entire world without having to leave my house."
Is curation killing curiosity?
75% of students listen to playlists over albums. For time poor students who use music to relax and switch off, or to make boring tasks less so, being able to access a good listening experience with little effort makes life easier.
"I can be sad and listen to a sad playlist."
Half of all students use playlists to discover new artists they might like. So the role of the playlist becomes that of first round eliminator. If an artist even makes it to one of the big playlists it means they've beaten a huge number of other candidates. And if the listener doesn't like the stand out track that has made it to the playlist, it is unlikely they will love the rest of the album. However, if they do, 37% of students will share or recommend playlists with friends.
Spotify's 'Who We Be' playlist is a perfect example of this behaviour. If an artist makes it onto the playlist they have a good chance of having a successful music career. Spotify have even turned this playlist into a sell out show for 10,000 fans at the iconic Alexandra Palace, taking the online offline and creating fandom.
"It widens your musical scope."
You could argue that playlist culture is not a result of laziness and trust in the curation/algorithm. It's more to do with being paralysed by the choice of having nearly every track, artist and album available to them 24/7. But actually we found that only 20% of students felt overwhelmed with the choice of music out there. So maybe they are just happy to be spoon fed recommendations in this way!
"It allows me to discover music similar to my personal taste without having to search for too long."
There is no doubt that students are still defining themselves through musical tastes. But it's not about physical collections anymore. Instead this experienced driven group is motivated by opportunities to connect with friends.
We think that curation is not killing curiosity, it's merely redirecting it.
This seems like an area brands need to keep an eye on. It could provide another point of cultural connection and a chance for them to find ambassadors who already have a following or reputation they can work with. But playlist culture is still new and we haven't necessarily reached the point where a mainstream audience cares about who is putting the playlists together. Only 1/10 students look up who has curated a playlists they like - although 3/10 would be interested in their favourite brands creating playlists for them. There is definitely an opportunity opening up here.
"My friends create playlists and I will listen to those."
Some brands are already jumping on the playlist bandwagon. Warner Bros Record label has created a Dua Lipa artist chatbot to push streams and increase social interactions. The chatbot (who sounds like the artist) will send fans personalised playlists based on the mood of the selfie/emoji/GIF they upload to start the conversation. Fans can save and share the playlist and check out related non-musical content, tour dates, behind the scenes video etc. Warner Music are also putting spend behind playlists, introducing 'Artists To Watch' in a fresh 'streaming first' approach to developing artists.
Disney is using Guardians of the Galaxy Vol.2 to create the 'throwback your playlist' experience. A clever algorithm allows users across 16 countries to generate 70s playlists inspired by the songs they enjoy and the movie's soundtrack. They know this will work as they also have the Disney Hits Playlist, which has 65 songs and 2.2 million followers - generating multi-million revenues.
But where can other brands be involved now? Looking at what kind of content is growing, we can see an immediate opportunity within the area of non-musical content. PrettyLittleThing, the cult Gen Z clothing brand, has created a 'no subject off limits' podcast, Behind Closed Doors, which has received a 5 star rating and had 1.6k viewers who rated it.
Over half of global youth (57% of 14-34 year olds) consider podcasts important to their lives. A quarter of students listen to podcasts/non-musical content regularly (2x or more a week). And as they discover Hollywood is turning to the format for some of their favourite content (e.g. Homecoming and Lore, which are already out, and Welcome to Night Vale, Limetown and Business Wars, which are upcoming) we reckon they'll spend more and more time plugged in, with this genre of content rising.
"I love the 'Sleep With Me' podcast. It's phenomenal."