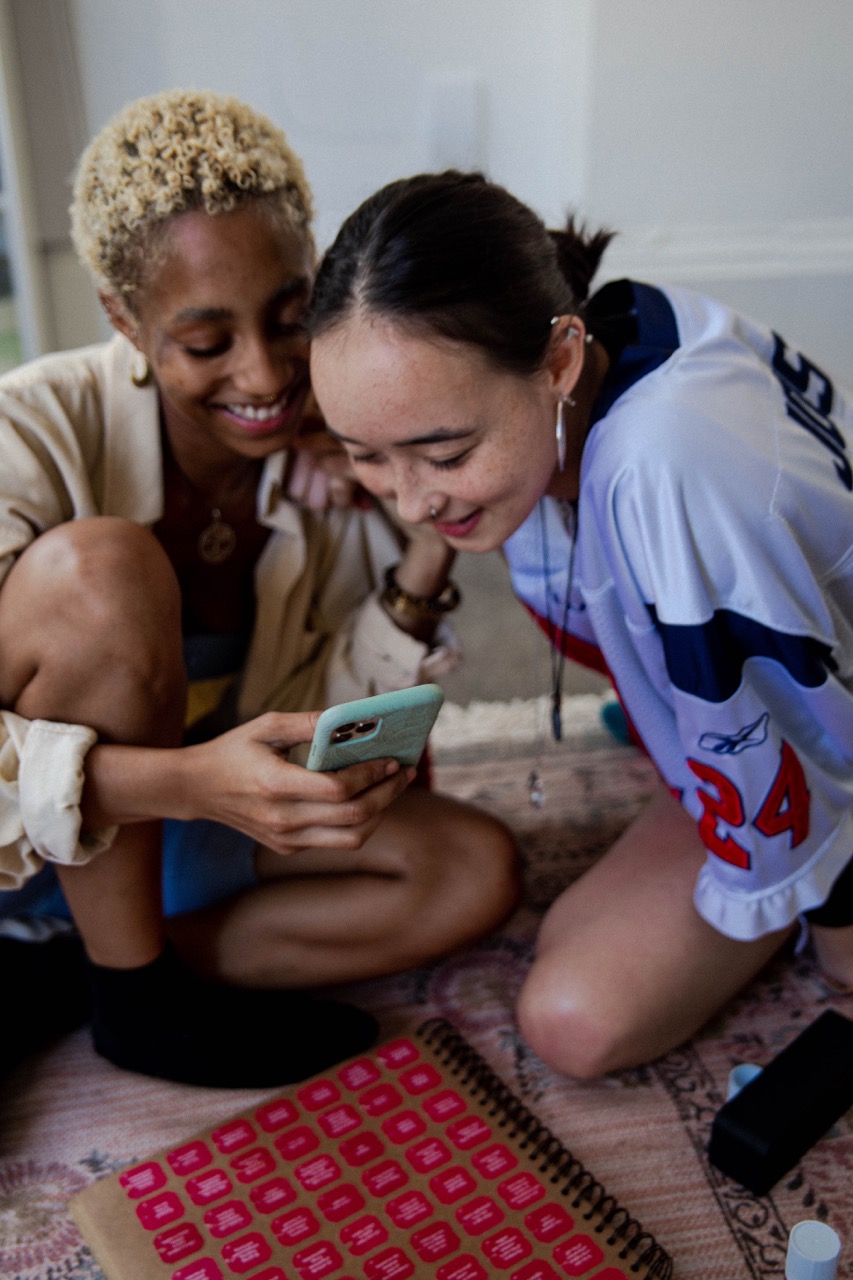 In fractious times, humans like to band together. Yes, it might be a cliché to say Gen Z values community, but it's a cliché for a reason. With the world going to hell in a handcart, one third of Zoomer respondents said being surrounded by a strong community – by peers who make them feel supported – is vital for their sense of self identity.
In other words, Gen Z builds each other up, creating a confident, supported group whose members have a strong sense of self.
But how else do they build their sense of identity?
PERSONALISED PLAYLIST
Music has always played a key role in how youth groups formulate their sense of identity, from those long-haired, jazz-loving beatniks to those long-haired, Beatles-loving hippies to those long-haired guitar-loving rockers.
Music has moved on quite a bit since the 1970s, of course (hairstyles, not so much) but tunes are still as important. From Billie Eilish to Digga D, over two-thirds of those asked said music is the number one way they express their identity.
STYLE SELECTOR
The female audience takes a slightly different stance, with music (very nearly) tying with fashion for their most important marker of identity.
This makes sense. It's an exciting time for beauty, with multiple movements encouraging women to enhance their uniqueness rather than trying to adhere to a uniform look.
In other words, there are now more options than ever to express your unique identity through how you present yourself. Naturally, hair (44%) and make up (39%) were seen as the most important areas within the beauty sphere.
VIRTUAL IDENTITIES
The male audience touted gaming and sport as being of almost equal importance after music. (There's whole rankings that compare the best soundtracks on video sports games...)
For non-students, gaming and hair jump up a few places in levels of importance, perhaps because they offer alternative career paths and so they're a bigger passion point. This is especially true if you consider that a lot of roles within the beauty industry have never required a degree but traditionally hold many opportunities, for women particularly, to enjoy highly successful careers.
INSPIRATIONAL INFLUENCERS
So, where do Zoomers look to for inspiration? The answer is of course social media. But it's slightly more nuanced than you might think...
Both male and female audiences value social media and peer-to-peer evaluation but females tend to take inspiration from influencers, while males tend to look towards experts. Which, when you think about it makes sense. If you're into beauty, online influencers are a great source of inspiration. If you're into gaming, there are plenty of tutorials about improving your scores...
This is true across Gen Z but the data splits when we look at university versus non-university audiences. Peer-to-peer input is huge for both but it jumps from 40% for non-students up to a punchy 56% for the student demographic. They care about what their mates think. Besides pals, over one third of non-students look towards brands for inspiration, compared with just 25% of students.
WHAT THIS MEANS FOR BRANDS:
PEER-TO-PEER REIGNS SUPREME:
Don't underestimate the sheer power and trust that Gen Z places in their peer community. Micro influencers and, particularly for students, using Brand Ambassadors can have huge pay-off on awareness, engagement, acquisition and sales.
GIVE THEM A PLATFORM:
Playing back into that peer-to-peer mentality, they look to one another for inspo and education to champion and empower heroes of the community. Get behind them before they're big and they come with you with success.
NICHE IS THE NEW NORM:
Don't be afraid to get hyper-focused on niche subcultures. They often evolve and become way bigger than the starter group.
HOW DO WE SEE THIS PLAYING OUT IRL?
ART CONSORTIUM
Olaolu Slawn has snow-balled into the cultural consciousness in the last five years and it's through not just creativity and hustler mentality, but by tapping into the power of peer support and collective community. The mutual support system within his friendship circle has seen them all strengthen one another's brands, projects and output. His brand Motherlan (founded with friends in Lagos and central to the skate scenes both there and in London) collab-ed with agency favourite Cortiez, and Slawn and Central Cee have created limited edition, sell-out items.
His most notable "stunt" doubled up as a f*** you to the gate-keepers of the art world, demonstrating he doesn't need their approval to be successful. He asked his fans to go to the Saatchi Gallery and request his artwork even though none existed there and so many showed up that the building had to be shut down. He continues to challenge other art institutions.
The beauty of his community is that he is them and so he knows them. Streetwear drop culture and skating culture have long established themselves as 'for the people, by the people'. As they've been commercialised, Slawn and friends represent the next wave of creator economy.
You can acess the full What Matters To Us 3 report here.