ESPORT EXPLOSION: IS GAMING HYSTERIA WORTH THE HYPE?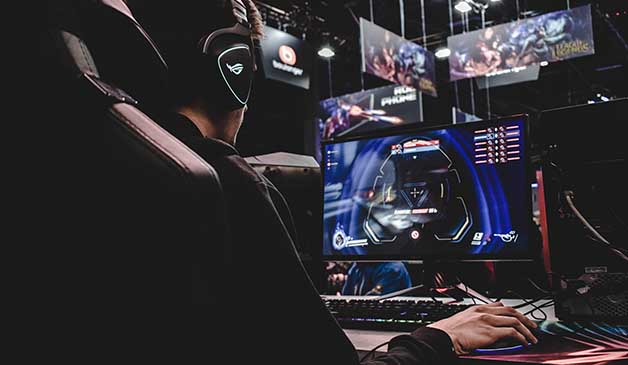 Esport is becoming more mainstream with growing global awareness. Students are seeing the potential of it both as a way to connect with people and as a potential career. In response universities and brands are taking up the challenge and getting involved to create opportunities for students who want to explore it further.
Sport is changing. Although the traditional university football, rugby and hockey clubs are still as popular as ever, we have seen the rise of many new ones over the years, from underwater hockey to extreme frisbee.
Universities have always been a place where like-minded individuals can come together to push boundaries. In the late 70s Oxford University student David Kirke invented the Dangerous Sports Club, a society dedicated to insane stunts in formal dress, decades before anyone had even heard of Jackass. Members pioneered hang gliding, invented bungee jumping and laid the foundation for extreme sports.
If we know anything about students today, it's that they are more risk averse and conscious of personal safety than ever. So it's unlikely that we're going to see anything this leftfield any time soon. But where we have seen huge growth of a new sport is in Esport. In fact we found that if students had an extra £50 in their budget, 31% of men (vs. 5% of women) would get some new tech or games.
"It's much more social than most people realise."
Currently, 22% of male university students in the UK watch Esport for fun (compared to 3% female) and 46% of male students (along with 13% of female students) consider themselves gamers. That's nearly half of all male students - probably more than play any one traditional sport at university.
This is about more than introverts hiding behind screens; it's an industry of 2.3 billion gamers globally, worth $1.6 billion with double digit growth year on year!
Demonstrating how seriously this new world is being taken, Staffordshire University (who consider themselves the best games university in the UK) is even offering an Esport BA(Hon) degree. Focusing on the business side of Esports in a practical technical environment, it promises to leave students with the skills to host small and large scale events, create business plans to build teams, create online communities and promote events through digital marketing. To do this they will be immersed in the culture of Esports, its audience and fan base, as well as a variety of the most popular current game genres. 
And BUCS (British Universities and Colleges Sport) are now supporting Esports as an official university sport.
*"Being a gamer is increasingly being seen as an advantage." *
Whether they are gamers or not, students seem to understand and appreciate Esport more than we have seen before. Almost half agree that gaming is a way for people to connect with each other on and off campus. Although more popular with guys, gamers span gender, age and other demographics and developers know it.
Just look at games like Fortnite, which has basically taken over the lives of players everywhere. People who would otherwise have no point of connection in their lives find themselves drawn to the different aspects of the Fortnite world. It's less misogynistic, less racist than many other games, and the violence is cartoonish in comparison, making it more palatable to more people. At times there have been up to 3 million gamers playing at a time! It has been the top game on streaming platform Twitch and the most viewed game ever on YouTube and is now firmly part of the culture of young people.
"It's a nice way to spend time with your friends without actually being there."
"There are more female gamers coming onto the scene now, so I do believe that type of stereotype has changed now."
One of the Top 20 searches of the year on Pornhub was 'Fortnite'. Each time a new Fortnite character was released, searches would increase dramatically!
"I was seeing these crazy dance moves in the pub the other night and I had no idea what they were doing and I asked someone and they told me 'oh, it's from Fortnite'."
The reason brands should pay attention to this space is because Esport is a lucrative, growing business and will continue to gain visibility and influence in our lives in the future. A quarter of male students think Esport could be a viable career path in the future (vs. 15% overall) and why not? Media giants like the Walt Disney Co are broadcasting Overwatch games on ESPN and Jack Etienne, owner of Esports team London Spitfire, made a million dollars from winning a recent Overwatch event!
Ninja, Fortnite's breakout star, makes more than half a million dollars a month by streaming his Fortnite sessions. He recently hosted a Fortnite tournament in an Esports arena in Las Vegas and nearly 700,000 people tuned in to his Twitch stream. He is ranked higher than any athlete in the world in "social interactions", beating footballer Cristiano Ronaldo into second place.
Students understand that gaming is not just a pastime; it's a lifestyle and a cultural touchpoint. 27% of students admit knowing someone who is addicted to gaming and Esport. However, even though 15% think it is not a healthy lifestyle, almost half of all students think gaming builds problem solving and strategy skills. The UK is now producing players who are world champions and an inspiration to a new generation of students.
*"The advantage of being a gamer is that it opens the minds more… different perspectives, different views. The disadvantage of being a gamer is that it takes you away from reality… it's addictive." *
Brands like Redbull have opened gaming spheres in London to meet the desire for events and spaces. But even non-gaming brands are getting involved. Malay bank RHB launched a campaign for Chinese New Year featuring the journey of a young gamer to professional success with the support of his family - a clever move to bridge the understanding gap between generations and appeal to a younger audience.
Doritos in Israel launched a reusable 'Towel Bag' so gamers can fix that annoying orange finger problem associated with one of their favourite snacks with one hand whilst playing. Nike is the latest brand to get on board with sponsorship of China's famed League of Legends Pro League. The sportswear giant has followed in the footsteps of Puma and Adidas, tapping into people's desire to engage with unconventional sports.
Even if they aren't in the gaming sector, brands should consider where they can get involved and take advantage of the opportunities this growth will present.