AROUND THE WORLD IN 8ISH CLICKS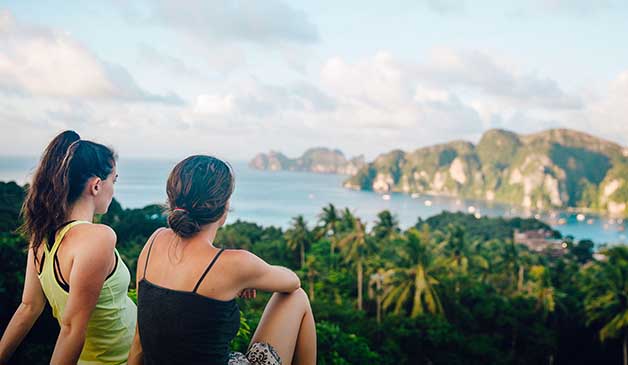 International travel has never been easier, with budget airlines, a dizzying amount of travel apps, booking websites and peer-to-peer accommodation vying to make adventures come to life. Add to that the constant streams of travel inspiration on social channels and the sheer volume of travel blogs, and you can see why it's the top of most students' wish lists. A massive 92% of students are planning to travel this year, which is impressive for a generation that are partying and going out less, and are more conscious about their spending habits.
Gen Zedders have told us that the reason they prioritise travel over spending on other things is because they see travelling as not only a way to decompress from the stresses of life, but also as a way to learn more about themselves, absorb other cultures and grow as global citizens. And for a generation that's more progressive than most before it, it's not surprising these experiences are becoming not only desirable but valuable.
About 47% of students are planning a weekend trip away, with a third making travel plans for multiple weekend getaways. More than a third are planning longer trips, including ski seasons and gap years.
While it may seem that there are no stones left unturned, nothing left undiscovered or un-Instagrammed, this does not dampen a student's passion for travel. Travel and technology are inextricably connected in a student's psyche, and they see the social reporting of their travel adventures as an essential element of their journey.
Brands should consider if there is a way to help facilitate the adventure and add value to the student's passion for travel, from inspiration to things they will need along the way to improve their experiences.
And if you feel that your brand does not link directly to travel or the facilitation of it, is there a way that you can learn from, expand on or connect to the values and experiences that travel gives students? Is there a way your brand can give students what they crave from travel in a different way?
__To find out more, get your hands on the research or to book in a workshop, chat to Joe our Managing Director on 0203 946 6010 or __joe@seedmarketingagency.com