KEYBOARD WARRIORS + PAVEMENT PROTESTORS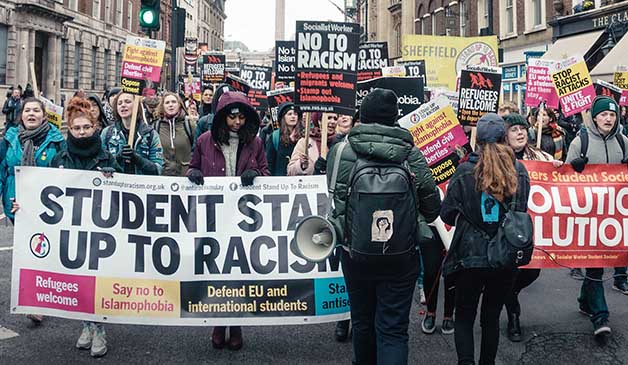 Students can be the most idealistic demographic in their generation, they are socially responsible and are passionate advocates. Political discourse is part and parcel of campus conversation, and student activism across a range of social issues is extremely high. From the Tiananmen Square Protests of 1989, to the 2014 Hong Kong student protests for democracy, they have not been afraid to take to the street, or more recently mobilise the world online via their phones or laptops.
In fact, we found 90% of students have taken some kind of action for a cause they believe in. From supporting junior doctors to protesting rising university fees, Brexit and Trump's state visit.
While students are often short on time and money, in today's world of 24/7 social media channels and digital connectivity, they are rich in reach. Around 83% of students have signed a petition online and 40% have gone on to share a political cause on social media. So they are not just arguing politics amongst themselves on campus, they are taking causes they care about to the wider world through their social channels.
Students today have a lot to contend with, growing extremes and unknowns of climate change and high levels of debt, to name a few. These unknowns seem to have crystallised their resolve, bringing them to the realisation that trying only to improve their own personal lives isn't enough as they don't live in a bubble. Gen Zedders are aware that everything is connected, and in order to help themselves they need to make the wider world better as well.
Students are set to become one of the most 'activist' generations yet, in no small part down to the speeds they are able to access and share information, moment by moment, click by click. The sharing of information and signing of petitions is not the only way they are showing their convictions, even on their tight student budgets, 13% have donated to a political cause.
We have also seen how students support brands that take direct action and who have a strong social purpose. Lush and Patagonia are excellent examples of brands that have done just that.
Knowing this and understanding students today means, as a brand, you need to be clear on what you stand for. Are you prepared to stand with your young audience, sharing an authentic genuine message for their causes and, ultimately, making them your own?
__To find out more, get your hands on the research or to book in a workshop, chat to Joe our Managing Director on 0203 946 6010 or __joe@seedmarketingagency.com