FROM BINGE DRINKING CLUBBERS TO STAY-AT-HOMERS?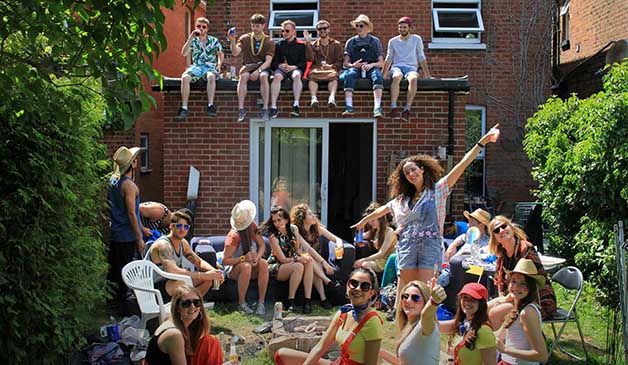 Ask most people how they would describe students, and you will probably hear words like lazy, self-indulgent and messy. But times have changed, and today's generation of students seem to be under more pressure than ever, with more debt, higher university fees, fewer guaranteed career prospects, and increased fear of the direction the world is going in.
Amongst students, as with other groups of young people, alcohol consumption is down with more socialising being done outside of the traditional pubs, clubs and bars than ever.
Going clubbing is at an all time low with only 22% of students putting it on their list of the top three activities to enjoy with friends. While 35% still enjoy going to the pub on a night out, even when it comes to buying cheap supermarket alcohol, only 26% have drinks at home with their friends. Students are certainly not going out every night of the week any more and are losing their 'party lifestyle' image.
Costs of going out can of course be very high for students on a tight shoestring budget, but the bigger concern to our more responsible students is the downtime and loss of productivity after a big night of drinking, whether in or out of the house. Downtime is only allowed if it doesn't take away from being productive, and that means limiting the late nights and hangovers. Not something you would have expected to hear from previous generations of hedonistic students.
With boozing and partying at an all time low, what are students doing socially? More than half have said chilling out and relaxing at home is their favourite group activity. This could be attributed to the huge growth in home based activities, with on demand home entertainment TV and video streaming services, online music accounts and easy access to food delivery services. With a cinema, club and restaurant in your living room, it is easy to understand the appeal of staying in.
What does this mean for brands? How can you become part of the fabric of a student's 'at home' leisure experience? How can you facilitate this focussed and more responsible young audience and accommodate them in enjoying their downtime in a way that doesn't result in an unacceptable loss of valuable time and productivity?
__To find out more, get your hands on the research or to book in a workshop, chat to Joe our Managing Director on 0203 946 6010 or __joe@seedmarketingagency.com