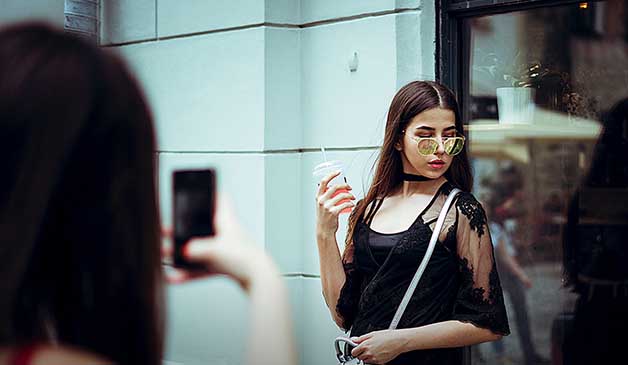 We live in a filtered world of impossibly thin models, flawless celebrities and picture-perfect Instagram feeds, where every blemish has been erased, creating an impossible ideal that no human can ever really achieve.
Why have we as a society decided to impose an impossible obsession for perfection and an unreachable ideal on ourselves and each other? We have seen what these unrealistic beauty perceptions and unattainable lifestyles have achieved, from every day insecurities and self-criticism to the increased dangers of eating disorders, and in the worst cases, permanent distortions of the way people see themselves through body dysmorphic disorders.
There is some light on the distant horizon, as it finally looks like we may be entering a new age where imperfection could be considered interesting rather than unacceptable. We are seeing more evidence of 'real' being in and 'fake' being out, although it is still too soon to say this without exception.
If this is the case, you would expect students, being at the forefront of every new trend and ready to embrace change in most aspects of their lives, to be pushing 'normal', 'attainable' and 'imperfect' forward in every way they can.
Sadly, a massive 83% of the students we spoke to felt this pressure to look perfect in real life, and in fact felt the need to look flawless in every area of their lives.
About 74% of students said they felt pressured to look perfect on their social channels. Even though they know it isn't real, and they know exactly how many selfies, how much makeup and how many filters it takes to tweak each photo, they don't know how to get away from it. They know how they want to live, and are genuine about it, but still feel they have to have this perfect image on their social media channels for validation. A constant round of editing, filtering, removing and untagging has become an everyday part of curating their online image.
Young people are in a phase of their lives where they are trying to establish their own identity and therefore still feel the need to conform in some ways. They are not willing to risk a negative response from their peers, but they are connecting to marketing that portrays their reality and celebrates their flaws. However, it seems we are still at the stage that until it's generally accepted that it's our imperfections that make us perfect, they won't be 'going unfiltered' on social media themselves. They are gravitating to marketing campaigns that portray reality and are looking to brands to champion this and lead the way for them.
This sea change of 'imperfect' pushing through brand campaigns and ambient culture will take a few years to bed in, so brands need to be pioneers for youth audiences. Brands such as Adidas and ASOS have proven that when you act bravely, you win with youth. From stretch marks, to braids, to fuller figures, this generation crave realness even if they aren't there themselves.
Are the images you are portraying realistic ideals of beauty? Are they going to look back at you and think that you were a positive or negative contributor to their self-image? After all, your student audience is telling you exactly what they want, all you have to do is trust them.
To find out more, get your hands on the research or to book in a workshop, chat to Joe our Managing Director on 0203 946 6010 or joe@seedmarketingagency.com