SEED'S 6 INSIDER TIPS TO WINNING AT FRESHERS FAIRS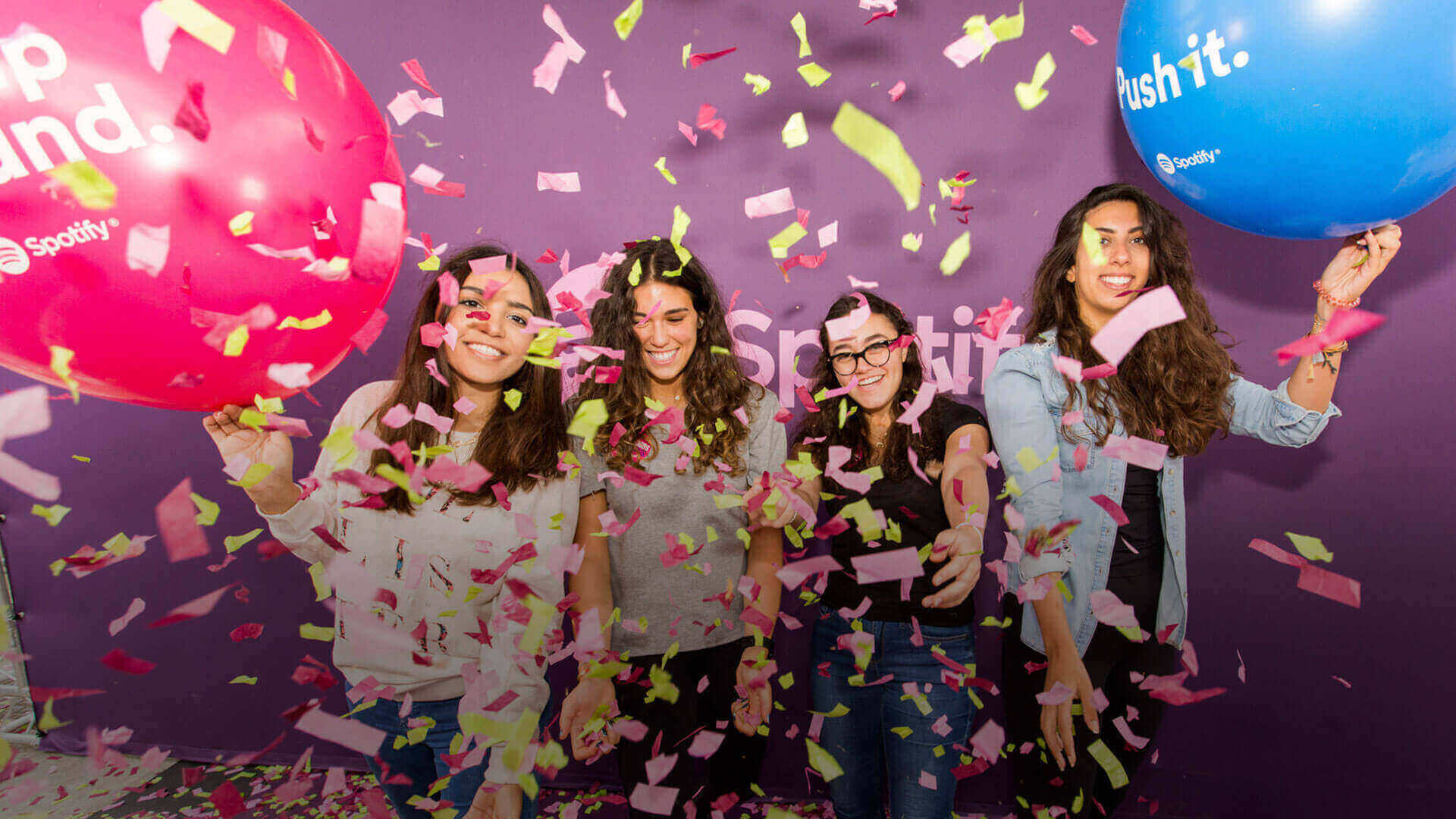 Author: Seed Team
Freshers Fairs. Friend or foe?
Generally set in a lo-fi venue, packed with brands, all vying for students' limited attention – Freshers Fairs don't always feel like the smart choice… However, with the right approach, they can still present a major opportunity for brands!
Cue Seed's 6 insider tips to winning at Freshers Fairs.

NANDO'S - SPIN THE BOTTLE
Why does it work?
Gamification – a strong and popular trend at Freshers Fairs
Everyone wins – from free sauce to free chicken, everyone walks away with something
It takes it back to the brand – and clearly promotes the brand's key USP… the sauce!
Seed's Insider Tip:
Quick engagement that packs punch. Although Nando's appear to have recently replaced Spin The Bottle, we wonder if it might get a comeback – due to its popular, quick and highly tour-able mechanic.
ASOS X SEED - BLANK CANVAS
Why does it work?
Personalization is at the core – students love to create and feel involved with brands that care about them as individuals
A perceived high value item that's bang on for back to school
Signing up to ASOS is intrinsically built into the process – but doesn't feel like a chore
Seed's Insider Tip:
Create something special. ASOS Blank Canvas had queues around the block at every single event – deliver a 'first' to create the cut through!
SPOTIFY X SEED - 30 SECOND RAVE PHOTOBOOTH
Why does it work?
Breaks the ice – giving new students a chance to have some fun together
Smart tech – students created their own bullet time videos with the Spotify integrated booth
It creates huge social media output – very shareable content
Seed's Insider Tip:
Create social moments that people want to share. Students are savvy and are very careful about what they share. However, if you help them tell a story they actually want to tell (e.g. "I'm having so much fun at Uni!"), they will be happy to show it off to their friends
DOMINOS - PIZZA GIFTING
Why does it work?
The branding is ubiquitous – all over every bag, balloon and box at Freshers – staff are strategically placed at entrances, exits and key spots of the fair
Give students what they want – free pizza is a no brainer!
Delivers ROI – low cost delivery by tapping into local franchises
Seed's Insider Tip:
Go big or go home. What Domino's loses in premium delivery, it makes up for in fair dominance and sheer volume at Freshers Fairs. Subtle doesn't really cut it at Freshers!
AMAZON X SEED - AMAZON STUDENT 6 MONTH TRIAL
Why does it work?
It's easily scalable – touring all of the biggest and best fairs across the UK and beyond
It drives sign ups on the spot – with clear and concise messaging
Instant gratification – free, fresh popcorn went down a storm!
Seed's Insider Tip:
Freshers can be a major sign up opportunity. Thousands of new and excited students pass through Freshers Fairs in the first weeks of Uni. If you have a truly compelling proposition and a friendly approach, Freshers Fairs can be a great time to convert sign ups.
MAXI MUSCLE - CHIN UP CHALLENGE
Why does it work?
It is simple, bold and eye catching – really standing out at Fresher Fairs
It is not too intimidating – most Freshers will be hesitant to do anything too wild (by day at least!), so find the balance
Encourages healthy competition – with just the right level of ego 🙂
Seed's Insider Tip:
Smart is not always better. With a low barrier to entry, Maxi Muscle created a simple, relevant and accessible activation that proved to be very popular at Fresher's Fairs nationwide
We are busy preparing global student campaigns for our clients for the coming 17/18 academic year. If you would like to find out more about engaging with the key student demographic, get in touch!
Next month, we will be sharing our top tips for going beyond Freshers Fairs, exploring the many opportunities that the rest of first term holds… on campus, at parties and at home. Stay tuned!
Team Seed x