Being a Gen Z music journalist built my career confidence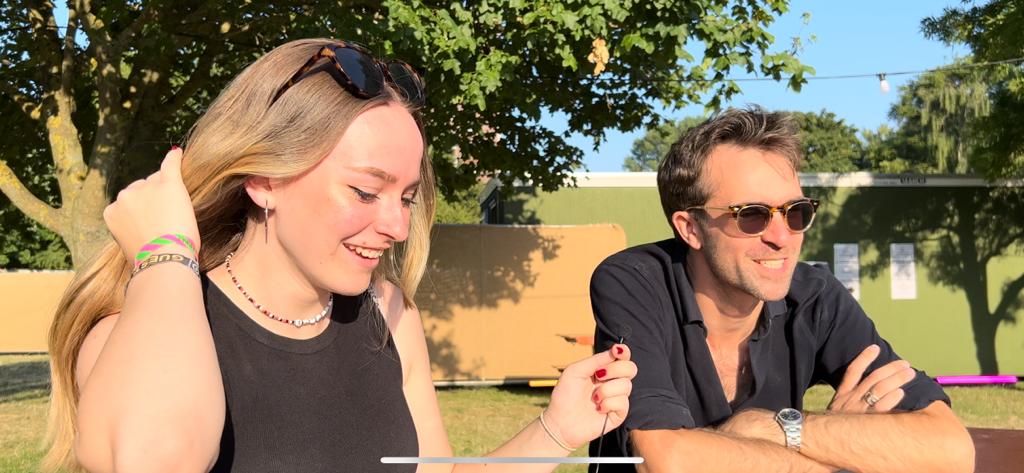 Author: Anna Zakis, Campaign Assistant, published on July 19th, 2023
Seed Intern Anna Zakis followed her passion which led to interviewing bands in her Spotify Wrapped Stats
When I moved to The University of Leeds 2 years ago, I led with the mentality that I wanted to feel authentic. I wanted to make sure that I had the freedom to explore new interests. I've always had an appreciation for music, as a fan; listener, writer and performer, so getting into music journalism was an innate decision for me. What I didn't anticipate was the opportunities that being in a media society at university could offer. I signed up for a membership at 'Leeds Student Television' (LSTV) and 'Leeds Student Radio' (LSR) societies, and after my first year was elected as Head of Music at LSTV, and Head of Live Broadcast at LSR. Through these roles, I was in charge of coordinating artist interviews, organising live gigs for student and professional bands, and helping to produce music content on our social channels.
Securing an internship at Seed, I moved away from the security of the Radio studio in Leeds University Union, to an office in Shoreditch, where I worried that I'd lose momentum on keeping up with my passion as a music journalist.
Did you know that there is a network of students who are organising gigs for student bands, visiting local festivals to interview bands, and travelling around the country to student TV and radio conventions?
I did some research and found The Student Music Network, which acts as a springboard for student journalists who want to experience work while also giving them the opportunity to enjoy events that they would've otherwise attended as a guest. It's struck me as an invaluable platform for young journalists, putting on 'Class of' live gigs that we can have the opportunity to host, as well as offering accreditation for festivals and gigs from artists that interest us. Now I'm a part of this small network of like-minded individuals who share the same passions, getting their foot in the door of the journalism industry.
Through the SMN, I've had the opportunity to meet a network of incredible student journalists. I became friends with Christian Sayers who has recently been picked up by Virgin Radio to work on their socials, and it's been a pleasure to watch him progress. He lets his bubbly personality shine through in interviews, and recently delves into more cinematic chats with artists, giving them an opportunity to open up about their stories more than a typical interview. It's really great to be part of a generation of Gen Z music journalists crafting their own path in the industry, leaning into our own strengths and reaping the benefits from doing so.
Being part of student media societies has taught me a lot. I've not only developed my presenting, editing and production skills, but learnt how to put my best foot forward in an ever changing industry. Last month I was lucky enough to produce coverage for Community Festival in London, interviewing The Vaccines and The Wombats. The skills that I have learned through experiences such as these, have helped me working at Seed Marketing. I'm often the youngest person in the room, but can mirror the confidence that my colleagues have. I probably wouldn't have the confidence to step into the office on the first day if it wasn't for what I've learnt being in the student societies with some truly incredible people.
Through my work at Seed, I have also come to the realisation that being in this industry as a junior is not always a disadvantage. I have so many chances to ask questions, and watch how the professionals do it. They were all in my position at some point, and there is so much to learn from them! From whether to shake someone's hand, or how to structure an email to an artist's management in the hopes of securing a press pass to their next gig.
Being only 20 years old, this is only the beginning of a journey of enjoying the passion that I have for music in the most exciting way I could imagine. There's a link to my Community Festival coverage below; something I'm super proud of, and feels like a big milestone for me.